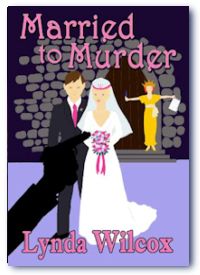 MARRIED TO MURDER
A Verity Long mystery

She wanted a quiet affair with just a few close friends, but a death at the wedding agency put paid to that. Now, instead of planning a wedding, Verity Long — the amateur sleuth with a fondness for murder, men, and Merlot — is planning to catch a killer.

Putting aside the paraphernalia of dresses, bouquets, guest lists, and the all-important seating plan, Verity soon finds herself up to her veil in trouble.
With a murderer hot on her wedding heels, determined to make her his next victim, and a fiancé telling her to stay out of it, Verity is no longer sure there will be any wedding.

How can she get married — when she's already married to murder.
Available now as an e-book on Amazon : click here to purchase
Strictly Murder, Organised Murder, Scouting for Murder,
A Novel Way To Die and *new* Long Drive to Death